Airway Adjuncts
Nasopharyngeal Airway

Passed through the nostril into the posterior pharynx
Side the tube postero-caudally along the nasal floor (not cephalad)
Does not stimulate gag reflex so helpful for semi-conscious patients who will not tolerate an oropharyngeal airway
Consists of a soft plastic tubing with a flange at the proximal end to prevent inadvertent loss of device into patient's airway
There are various ways to size the nasopharyngeal airway: some advocate sizing the width of the tube to the width of the patient's 5th finger
Absolutely contraindicated in: (suspected) base of skull fractures / naso/oro-pharyngeal & facial trauma
---
Oropharyngeal Airway ('Guedel')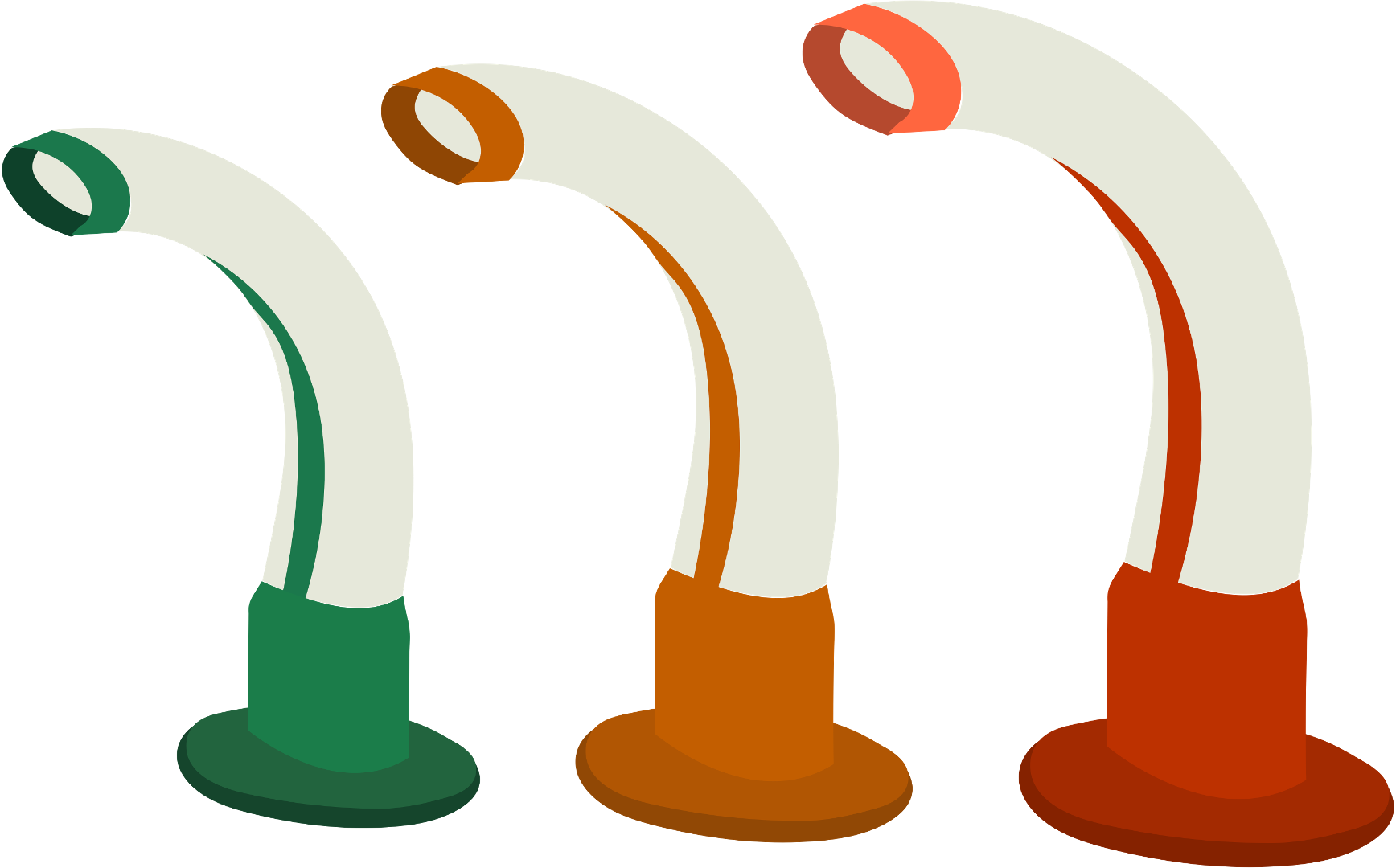 Passed through the mouth into the posterior pharynx to prevent the tongue from covering the epiglottis
Sized by measuring from the angle of the mandible to the incisors (usually green for women, orange for men, red for large men)
Stimulates a gag reflex and so may not be tolerated well by semi-conscious patients
---
Supraglottic Devices
1st Generation
Classic Laryngeal Mask Airway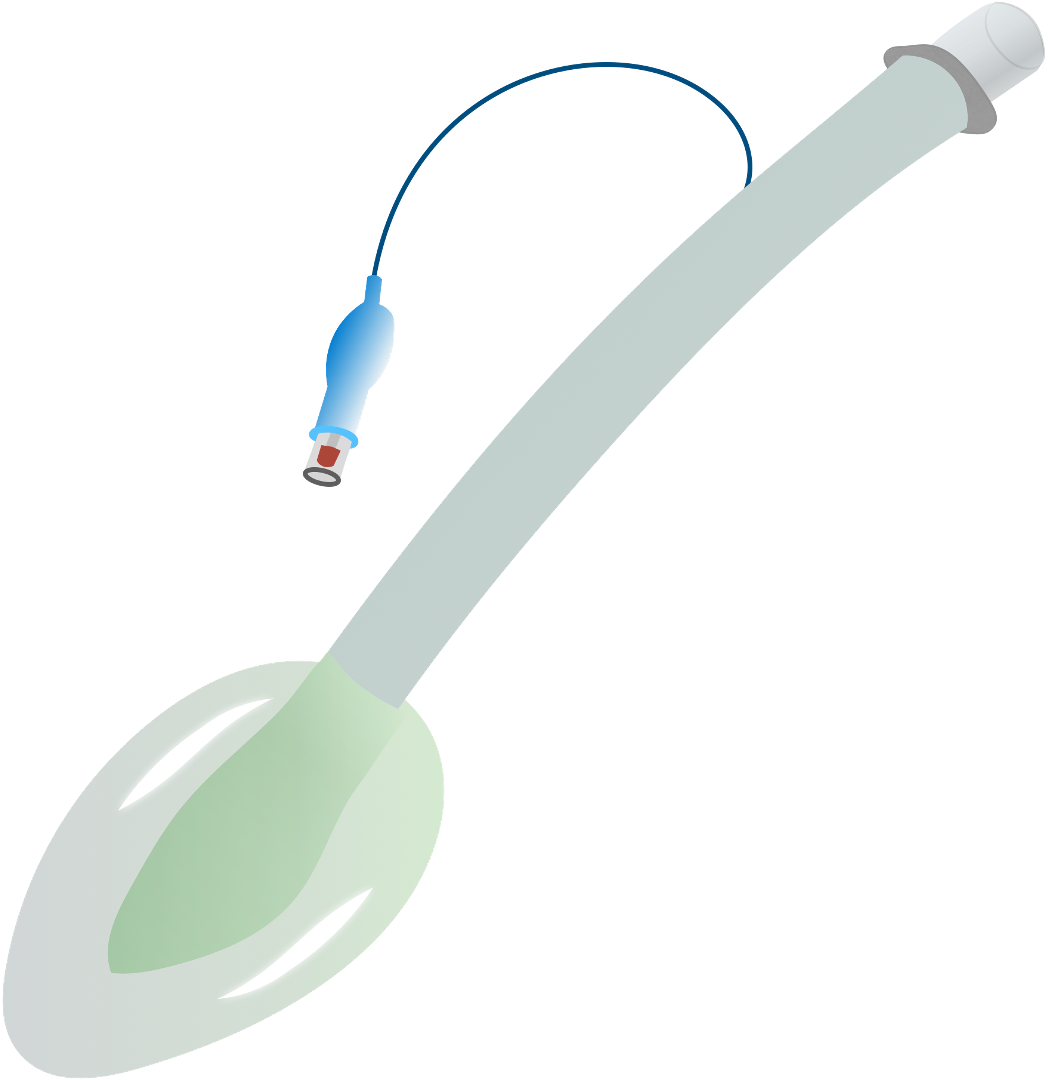 Inserted blindly through the mouth into the hypopharynx
The 'mask' is inflated so as to create a seal against the laryngeal inlet
Indicated in:
Operative settings: for cases of a short-duration (<3 hours) in patients who are fasted and at low risk of aspiration
Emergency settings: as a temporary airway bridging device in preparation for intubation (generally, a 2nd Generation device is recommended as 1st choice in this instance)
Contra-indicated in high peak airway pressures, pharyngeal pathology, risk of aspiration, obstruction below the larynx
---
2nd Generation
iGel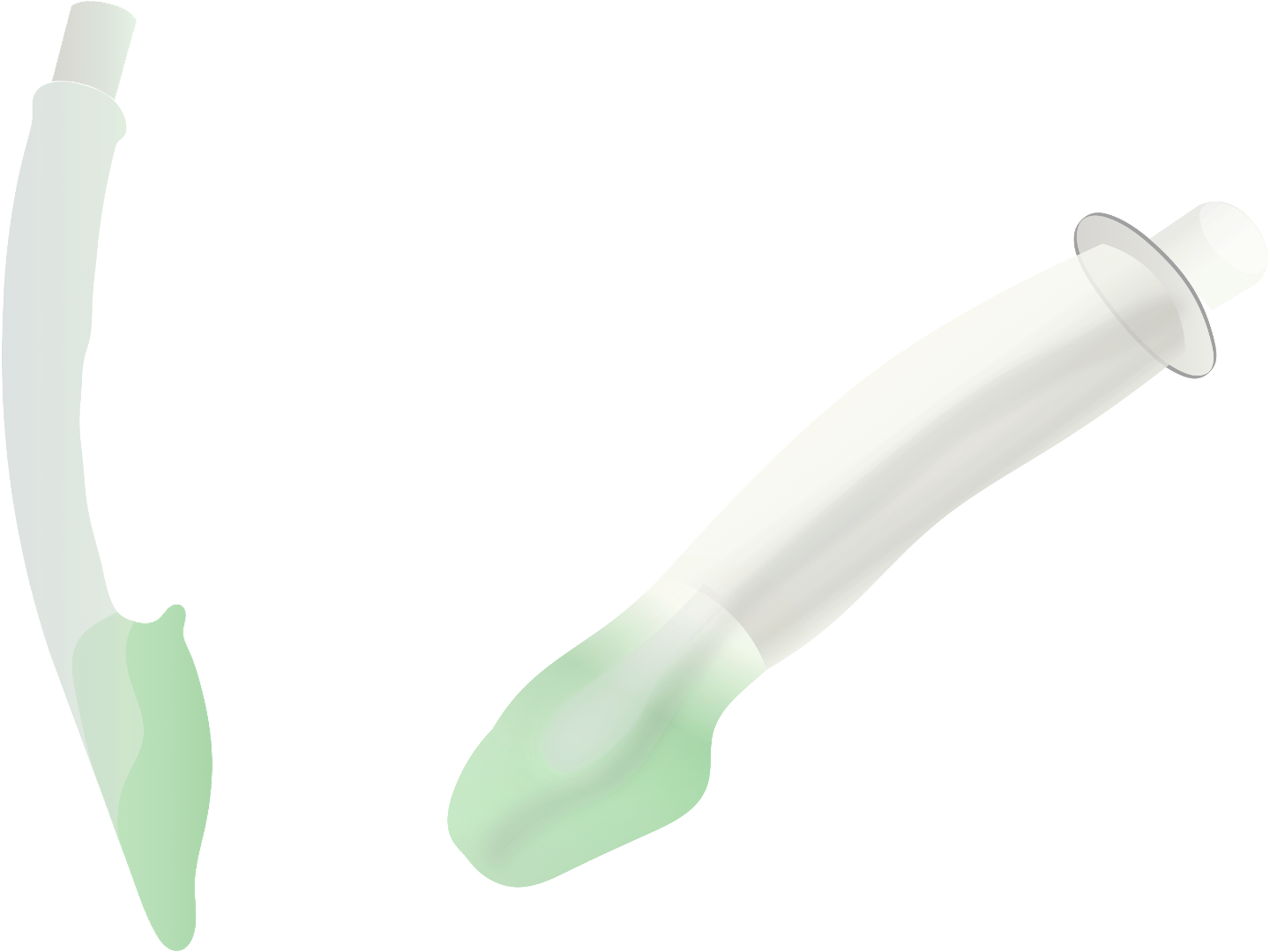 Laryngeal mask is not an inflatable cuff but is a thermoplastic elastomer that moulds to the patient's warm airway to generate a seal
Integral bite block
Gastric port opens at the oesophageal inlet to allow stomach contents to pass (+/- aspiration with gastric tube)
Seal pressure is usually greater than 1st Generation devices, allowing for use of higher peak airway pressures
---
LMA Supreme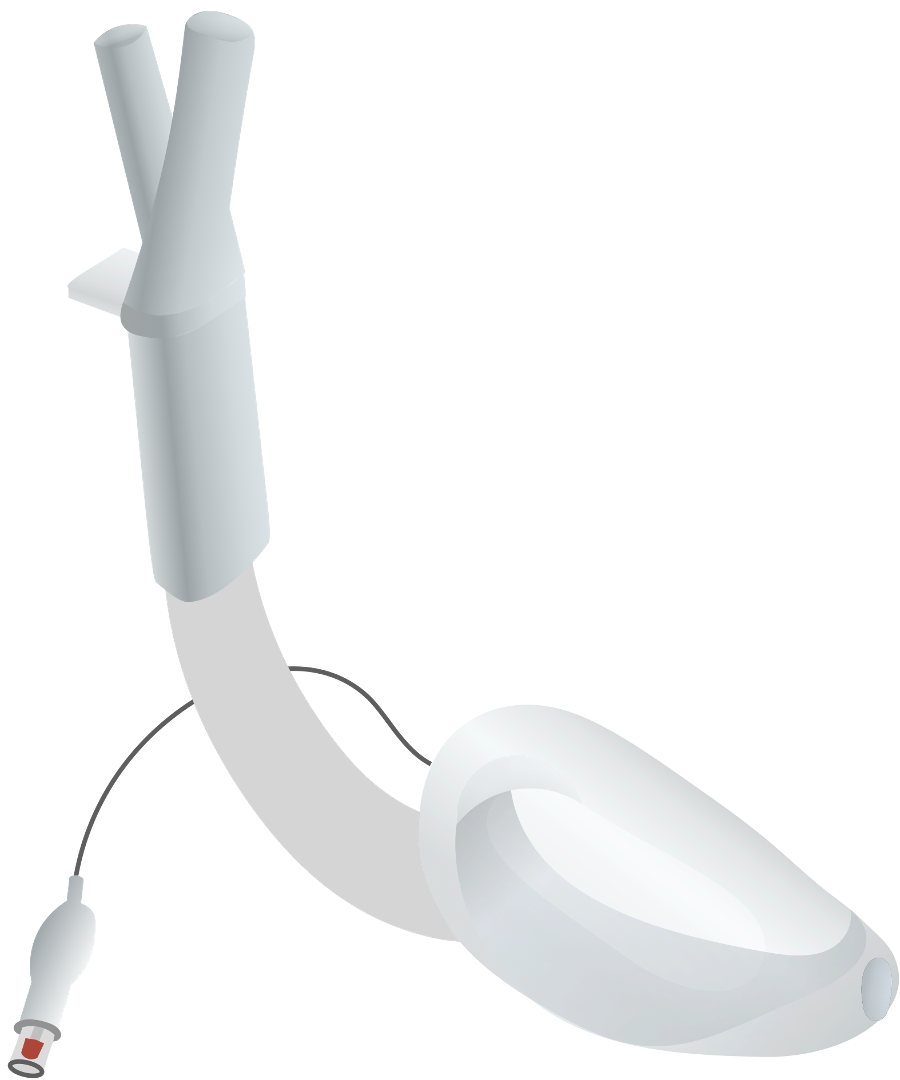 2 Seals: Oropharyngeal Seal + Oesophageal Seal
Aperture fins at the cuff opening reduce risk of epiglottis occluding the mask
Gastric channel opening
Integral bite block
Seal pressure is usually greater than 1st Generation devices, allowing for use of higher peak airway pressures
---
Endotracheal Tubes
Standard Endotracheal Tube

Standard 15mm universal connector for breathing circuit
Transparent PVC Tubing
Pilot Balloon with spring-loaded one-way valve
High Volume Low Pressure Cuff
Glottis Line
Murphy Eye
Bevelled tip
NB. A 'Reinforced' or 'Armoured' ETT looks very similar but has a metal wire coil embedded in its wall which maintains the lumen patency even when it is bent. This makes it very useful for certain shared airway cases where the surgeon may need to manipulate the tube to gain access to the surgical site.
---
South-facing RAE Tube

'Ring, Adair & Elwyn' Tube facilitates oral/facial surgery with a south-facing bend in the tube to facilitate surgical access
Depth of tube insertion is largely determined by the pre-formed bend in the tube
North-Facing Nasal RAE Tube

Nasal tubes also facilitate oral and facial surgery by bypassing the oral cavity to maximise surgical access
The smaller diameter of the tube (to facilitate passing through a nostril) can lead to high peak airway pressures and produce an obstructed ventilatory pattern
Special care should also be taken to protect the nostril from pressure sores (and subsequent necrosis) from the tube
---
Neural Integrity Monitor (NIM) Electromyogram Tube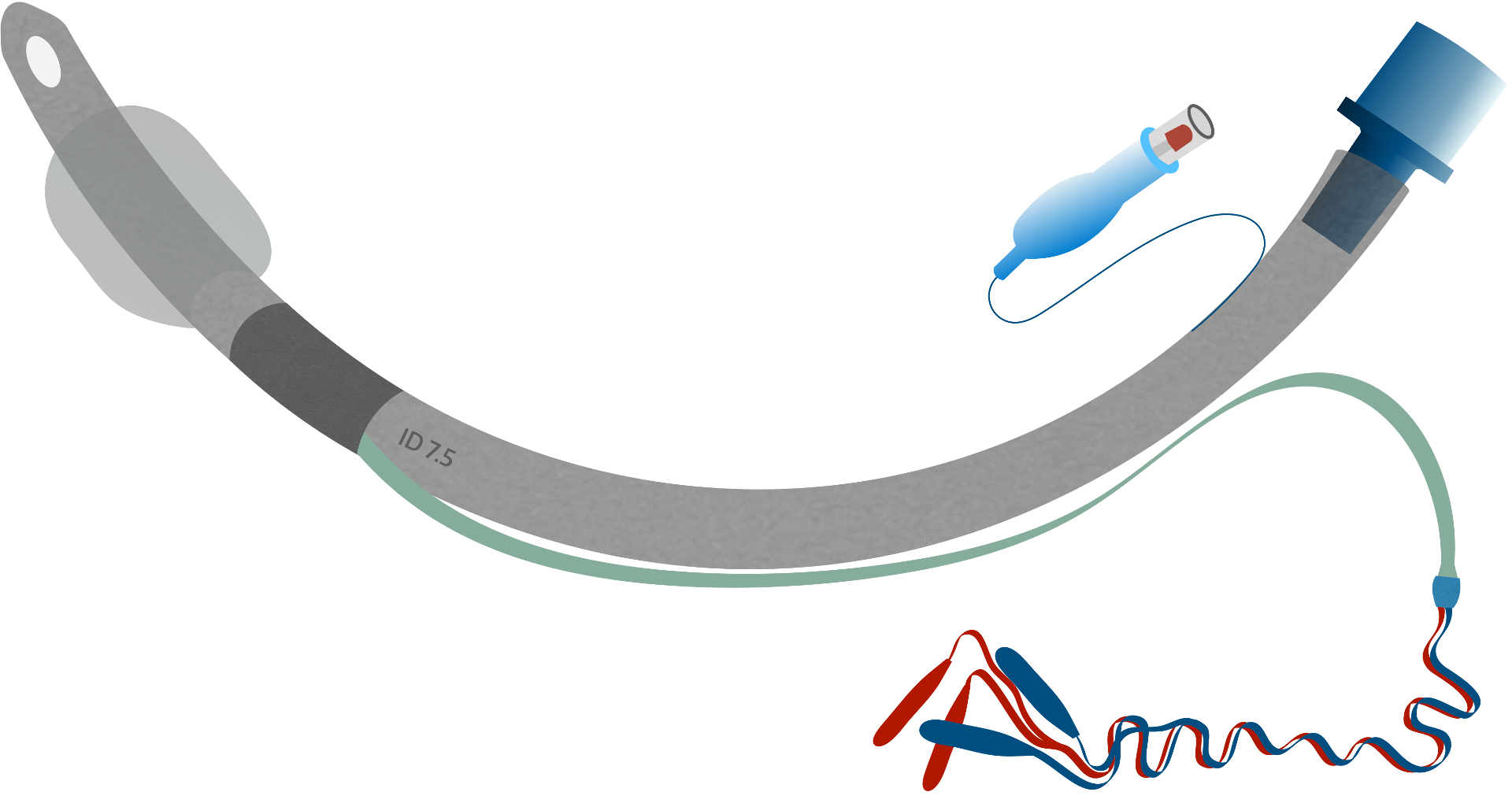 Used for Head & Neck procedures where the Laryngeal Nerve is at risk of injury
Colour-coded contact band must be positioned between the vocal cords – these detect vocal cord movement if a Laryngeal Nerve is stimulated
Surgeons use a sterile contact probe (passing 0.5-2.0 mA current) to test anatomical sites in question
Return electrodes are placed over the patient sternum
If the surgeon stimulates a Laryngeal Nerve, the motion of the Vocal Cords is detected by the contact band on the ETT and the electrical signal is detected ad displaced on the monitor (with an audible 'click').
---
Laryngoscopes
Macintosh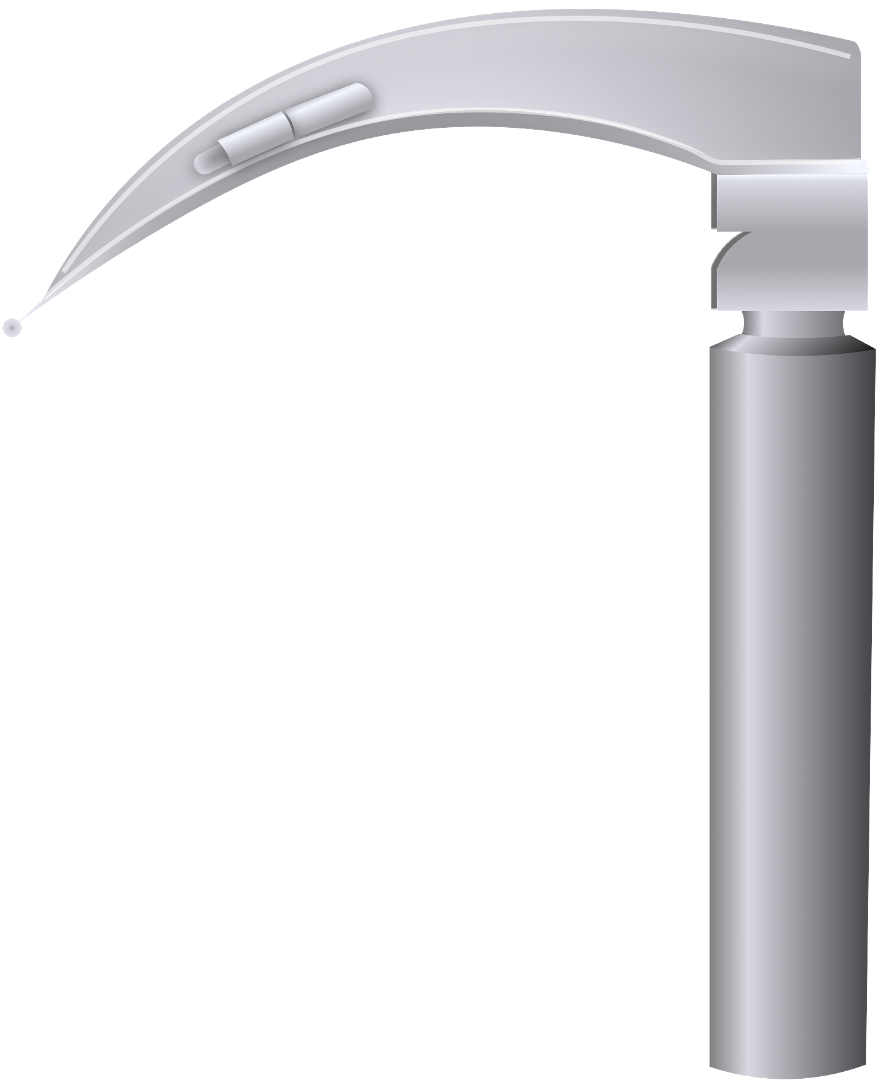 Generally the preferred the laryngoscope for adult patients
Curved blade
Tongue spatula to move the tongue to the left
Allows direct vision of the larynx by passing the tip of the blade into the vallecula in order to lift the epiglottis out of the view
Batteries held within the handle power the light source via a fibre-optic light path
Handle can be replaced with a 'stubby' handle (shorter) which can be helpful in obstetric patients (connection is via 'hooks')
Hinge between the handle and blade allow for more compact storage
---
McCoy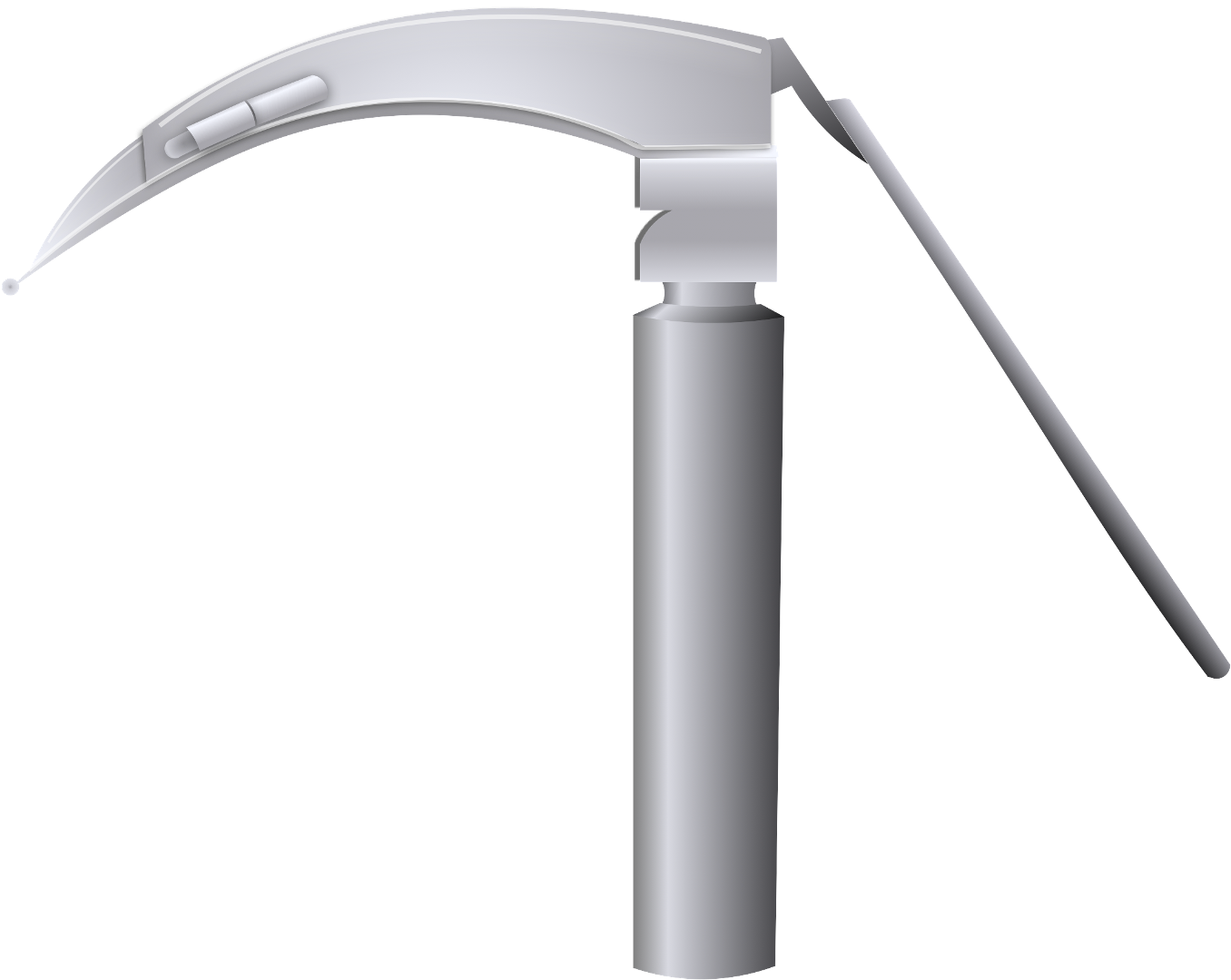 Similar to the Macintosh in blade shape
The blade comes in two parts connected by a hinge
Lever mechanism flexes the tip of the blade in order to improve visualisation of the larynx by moving the larynx more anteriorly
Useful for more difficult intubations (e.g. patients with anterior larynx) – but has largely been made obsolete by videolaryngoscopy
---
Miller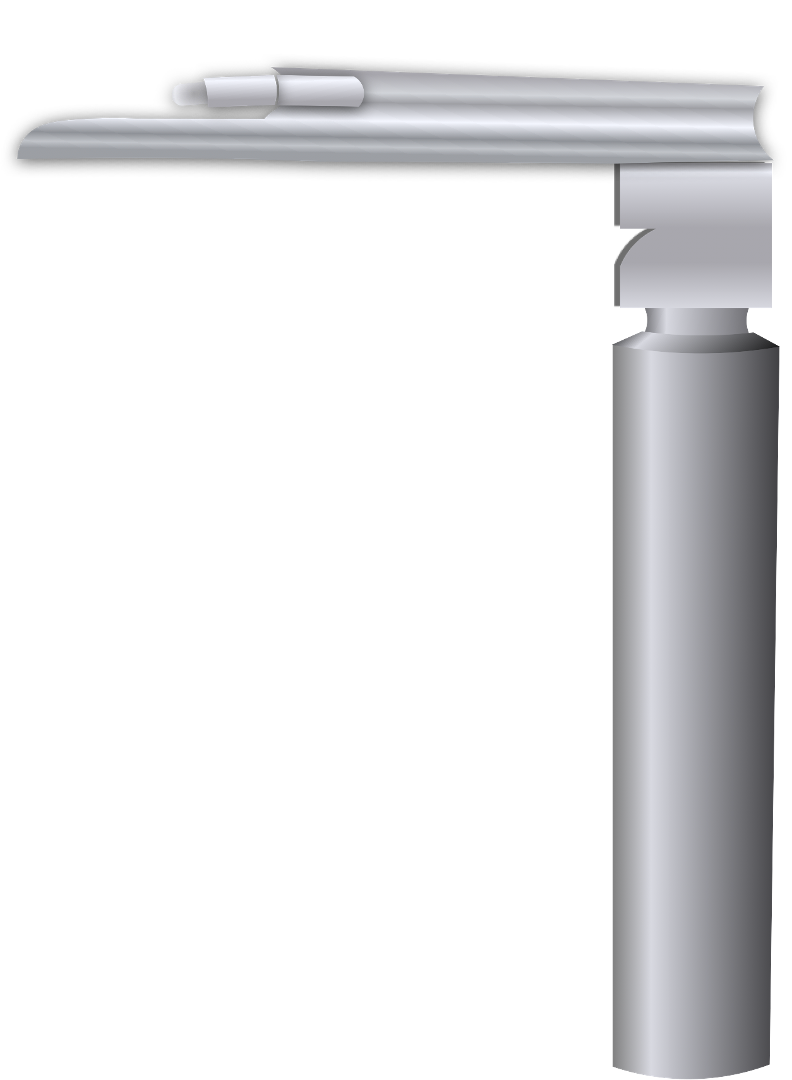 Generally the preferred the laryngoscope for paediatric patients under 2 years of age
Straight blade
Allows direct vision of the larynx by directly lifting the epiglottis out of the view
---
Our Laryngoscope TikTok video
---
Useful Tweets and Accounts
These are two of the most useful Twitter accounts to follow for anaesthetics - we'd highly recommend them!
---
A useful subreddit